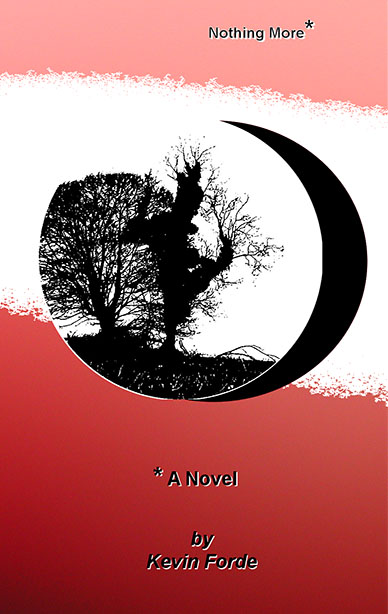 Currently out of print. Previously published as "The High Kicking Kung Fu Soccer Playing Bunny Rabbit Tree – by K. Michael Forde", it was stowed in the back of a cupboard for five years, festering like a mold, while I sought representation. Nothing further was written until it found a home, a safe place for it to exist in the world.
Then, one afternoon, someone mentioned "Print on Demand" to me (whereby a single book can be printed at time of purchase and shipped out.) A prologue was added and soon it was set free as The High Kicking Kung Fu Soccer Playing Bunny Rabbit Tree
Basically, to me, it's about a guy who sits at home and does nothing. As he sits, he thinks about nothing and what that means. The world passes by and he is on the cusp of his greatest achievement (on realising the Supreme Greatness of "Nothing"), when his wife bursts in to put him in his place.
---
Blurb from the back:
Arth Barrett: No-good Irish layabout that does nothing all day every day
or
monkey-suited superhero of the Sixth Dimension travelling the world and his kitchen, across time and through space, fuelled only by his ability to grasp the importance of hot beverage additives?
The time is approaching when Arth's wife, Caroline, must decide once and for all.
---
To tell the truth, I haven't read it in a long while. I find elements of it "icky" and somewhat annoying. It is full of the self-certainty of a young man who knows everything, and nothing. This is not necessarily a fault in the book, but characteristics of a sometimes irritating narrator.
It should always have been called Nothing More, but I felt at the time that sounded somewhat pretentious, for some reason.